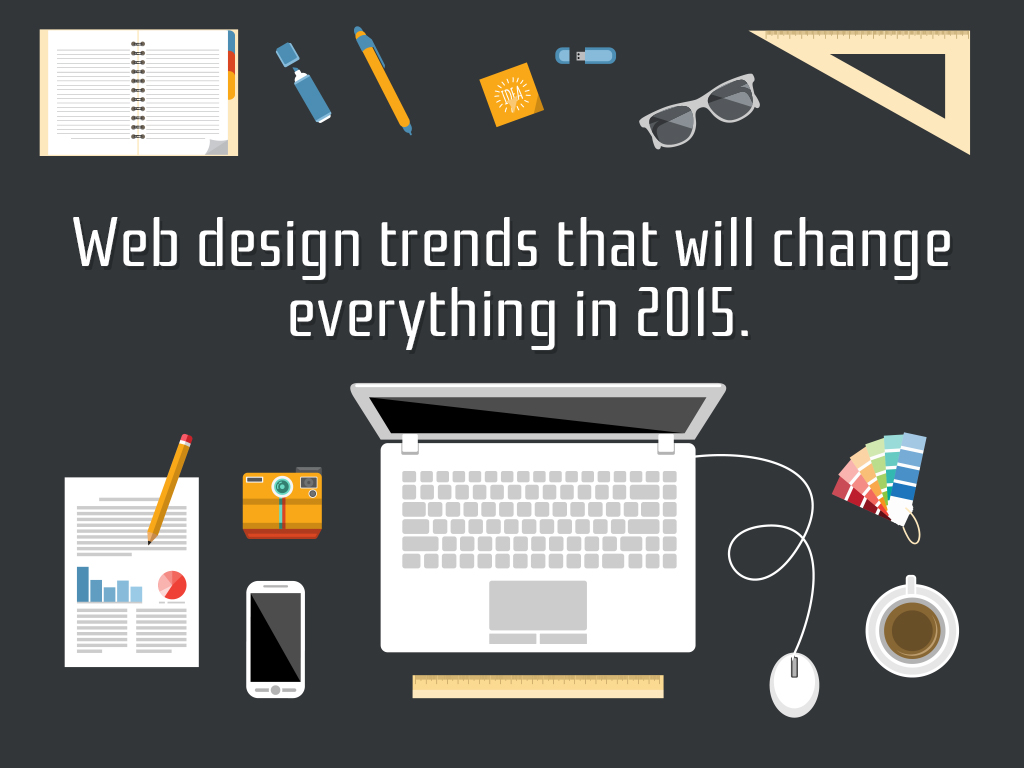 Websites have taken over the digital space and are continuing to become better each year. This is a year of visually impressive, spaced out, responsive web designs with crisp content. Websites are responsible for turning visitors into customers, which means website designs have to be constantly updates for the benefit of the potential customers. Brands no longer use cluttered sites with oversized fonts.
So let's see which web design trends are taking over in 2015
1. Huge background images or Videos
Elaborate background images are a hit amongst users. Huge sliders on your home page that display high definition images related to your brand is trending amongst companies across the globe.
2. Card-based design
Let me give you a broader idea of what exactly is Card based designs. It is content written in boxes which look like business cards. They have become popular because it is easy to spot and tempts your visitor to click on it. Card based designs also make the website look neat and presentable. These cards are also called widgets and can be seen on websites everywhere.
3. Digital-first branding
Brands have realized the potential of Digital branding. It is now the topmost priority for most brands. Companies have a separate online marketing agenda which makes websites all the more important.
4. Open data
Open data is gaining popularity at a slow but steady rate. Open data is content that is freely available to everyone on the internet. Although there are individuals who are not up for it, this idea is going to take over quickly.
5. Responsive design – evolved
Maximum users prefer a parallax website with a responsive design. An efficient user interface keeps your visitor asking for more. A responsive web design keeps the user from abandoning your site and latching on to your competitor's brand.
6. Keeping it Private
With e-commerce websites taking over the retail sector individuals prefer shopping online. This means putting in your credit card and other details. Websites nowadays are developed in a way that protects all your personal information and gives your users complete security.
7. Isomorphic JavaScript
Isomorphic JavaScript is the face of future web designs. This JavaScript was created to solve the problem of slow functioning apps but has ended being an asset to developers everywhere. Most websites in the future are going to be based on Isomorphic JavaScript
8. Iteration
Iteration is an aspect of Java that makes a website smooth and easy to maneuver. It enhances web designs and makes your website look attractive. Iterations are known to be one of the major traffic pullers and are one of the most effective next gen website trends.
9. Large Headers without Background Image
Such a display enhances the content and makes the visitor see what they really should. Large headers without backgrounds are being in all the latest web designs. They are making a statement. In case you are thinking of revamping your website you know what to add
These 9 trends are being adopted by developers and designers all over the world. So what are you waiting for…adopt the change.