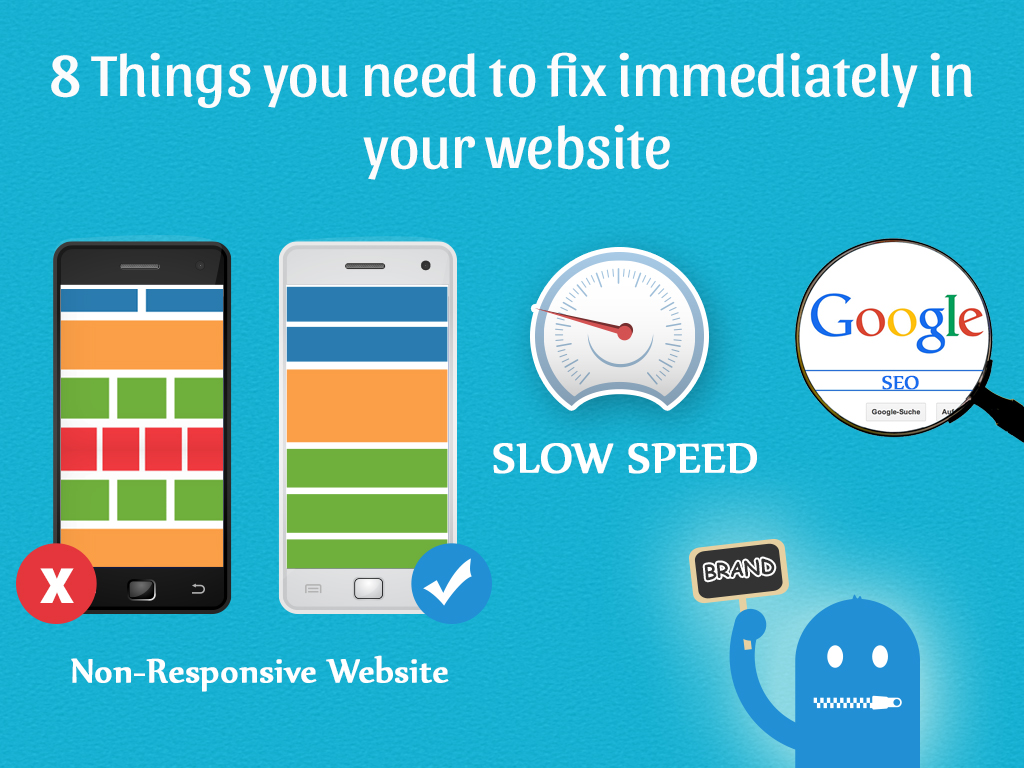 Websites in today's time define the image of your brand. But having a website is not enough, along with developing one you also have to make sure it is updated and easy to use. So how exactly will you know how and when you need to modernize your website?
We bring to you 8 Signs that you need to look for in your site –
1) Cluttered Web pages

Gone are the days where all the information of the website had to be piled on to one page. This is a complete turn off to the visitors. Imagine logging on to a site and seeing a number of images, content, call to action buttons all of it together. It is not a pretty sight. Visitors will not take a second to log on to your competitors website. In case your webpages look cluttered you need to call your developer immediately.
2) Not-so-optimized Search Engine

With Search engines like Google, Bing and Yahoo taking over the internet, you need to make sure you are in the game.
Search engine optimization allows your website to pop up on the first few pages of the search engine. Ask your developer to optimize your website with the right keywords and appropriate links. There should be no broken or false links.
3) Confusing Content

Everyone knows content is king, especially in today's time. You need to see to it, that the content on your website is easy to read.
Content should not be too detailed or too less; rather it should be adequate and allow users to cruise through without much hesitation. The best way to create content is by adding subheadings, this way the visitors know if they wish to read about it in detail or not.
4) Non-Responsive/Non-Compatible with Mobiles

Users no longer switch on their laptops for online work. Everyone has gone mobile, which is exactly why you have to too. Having a website that is not mobile friendly is quite harmful for your brand.
If a user wishes to log on through their mobiles and your website does not respond well, he is going to instantly click on your competitor's site. There goes one potential customer. Bingo!
5) Unappealing Call to Action Buttons

Call to Action Buttons like BUY NOW, CLICK HERE, LEARN MORE are another way of turning your visitors into customers. Make sure these buttons are visible and attractive. The minute visitors log on to your site they should be tempted to click the CTA icon.
6) Does your website speak for your brand?

If the answer is no…you need to definitely look into it.
Your website is an online identity of your brand. Hence, it is utmost important that the colours, stylisation and the content give out the message your brand wishes to portray.
In case you have changed your mission and marketing strategy in the recent past, you need to reflect the said changes on your website too.
7) User-Unfriendly

A visitor should be easily able to navigate through your website. Some websites tend to confuse the visitor rather than making their work easier.
Get your site tested by a few people who aren't a part of your firm, ask them about their experience on using it, accordingly get in touch with a professional web developer and make the required changes.
8) Slow Speed

A website with a slow page load is an absolute disaster. Estimated time each visitor spends on a new website is 15 seconds so if your website is slow, chances are you are losing out on visitors. Avoid this and watch your website stream in loads of traffic.
So if you find any of these signs, there is definitely some website upgrading that needs to be done. It may seem like trivial steps but it is exactly what your website needs to function smoothly and pull in excess traffic!
Go ahead…modernize!